These two compressors put out some serious air,
this is the best 150 psi setup, at a great price.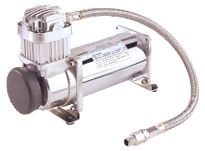 Viair 400
5 Gallon Tank Fill times:
0-145 psi 4 min. 50 sec.
110-145 psi 1 min. 40 sec.
Max Working Pressure: 150 psi
Duty Cycle: 33%
Dimensions: 9.0"Lx4.0"Wx7.0"H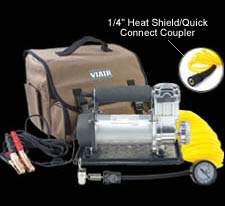 Viair 400p
This compressor is the most ideal compressor for off road use.
It will fill a 35" tire from 0-30psi in less than 5 minutes.

It Includes:
Deluxe Dual Compartment Carry Bag
3-pc. Inflation Tips Kit
5-in-1 Inflator/Deflator with Inline 100 PSI Gauge
Dual Battery Clamps with 40-amp Inline Fuse Holder
Coiled Air Hose
Mounted on a diamond plate base with a carrying handle